ARTIST STATEMENT: FLORAL SERIES

One great joy of my early childhood was helping my grandmother, Linda Chandler, tend her lush flower garden. Because of her I love everything about flowers! The images I produce are not usually meant to portray a certain genus but are representational abstract forms. Often I use rich impasto marks applied with palette knives to have the flowers pop off the surface. Makes me want to take a sniff and see if they have supernaturally gained fragrance! The world is such a better place because of flowers!
To create my floral images I usually work in oil or acrylic on canvas or panel, textiles collage, sheet metal or ceramics.
Enjoy!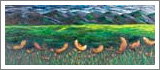 Floral Landscape
36 x 80 in.
Oil on Hollow Core Door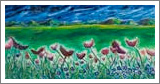 Small Blue Flowers
15 x 30 in.
Oil on Canvas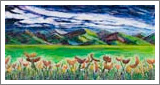 Long White Clouds
15 x 30 in.
Oil on Canvas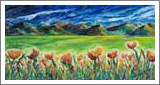 Summer Flowers
12 x 24 in.
Oil on Canvas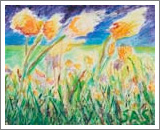 Poppies in the Wind
16 x 20 in.
Acrylic on Canvas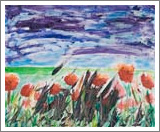 Poppies in the Rain
16 x 20 in.
Acrylic on Canvas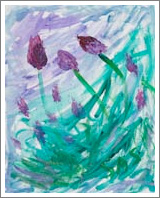 Purple Flowers
20 x 16 in.
Acrylic on Canvas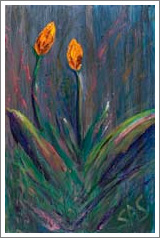 Two Tulips
35 x 23 in.
Oil on Acrylic on Panel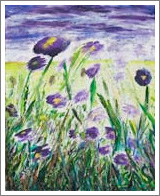 Purple Flowers In The Rain
20 x 16 in.
Acrylic on Canvas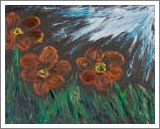 Blue Light
11 x 14 in.
Oil on Canvas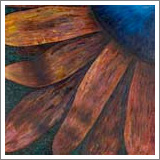 Flower Close Up
60 x 60 in.
Oil on Canvas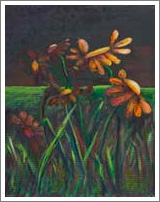 Flowers at Night
20 x 16 in.
Oil on Cardboard