ARTIST STATEMENT: SELF INFLICTED WOUNDS SERIES
I believe we hurt ourselves far more than anyone else possibly could. These works reflect a mixture of experiences that have brought pain into my own life. It is not that I enjoy suffering, but more that on occasion I have just been foolish. Creating the art helps me realize how much more I desire and prefer healing. Yet the learning process continues.

Oil, acrylics, mixed media collage with found objects, glitter, thread, yarn and textiles on hollow core doors, board, canvas and paper are all utilized to explore the wounds.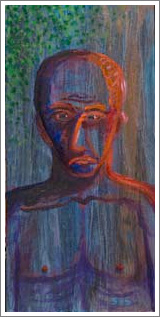 Self Portrait
35 x 17 in.
Acrylic on Panel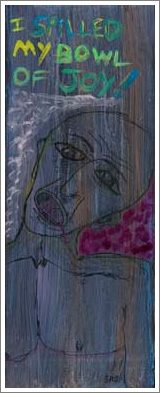 Self Portrait (Spilled Joy)
18 ¾ x 7 ¼ in.
Acrylic & Felt Tip Marker on Board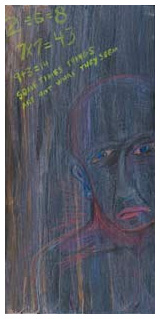 Not What It Seems
35 x 17 in.
Acrylic & Colored Pencil on Panel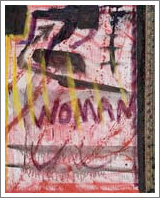 Woman
20 x 16
Oil on Canvas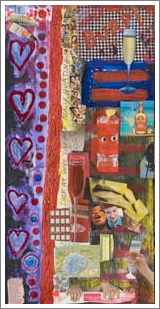 Strong Drink
30 x 15 in.
Mixed Media on Canvas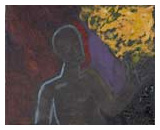 Up In Smoke
16 x 20 in.
Acrylic on Canvas Panel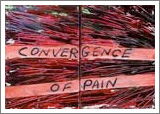 Convergence of Pain (Diptych)
7 x 10 in.
Acrylic on Canvas Panel

Fear of Failure
48 x 15 in.
Mixed Media on Panel

Shadow Land
56 x 12 in.
Mixed Media on Panel

The Path, Wide & Narrow
48 x 15 in.
Mixed Media on Panel

Jealousy Kills
48 x 8 in.
Acrylic on Panel

All That Glitters Is Not Gold!
56 x 12 in.
Mixed Media on Panel

Self Inflicted Wounds (first in series)
79 x 15 in.
Mixed Media on Panel