ARTIST STATEMENT: VERBAL ABUSE SERIES
Verbal abuse is a worldwide plague affecting the core of society. This series brings attention to that plight and speaks out on behalf of others who cannot or will not.

These are social statements created using acrylics and mixed media collage with found objects. Like the act of verbal abuse, there are many dual messages and hidden meanings in the voices that cry out from the art. Will these voices be heard before it is too late? Only time will tell.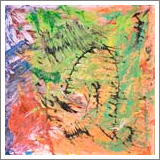 "Verbal Abuse"
(first in series)
31 1/8 x 31 1/8 in.
Acrylic on Canvas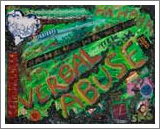 Green
16 x 20 in.
Acrylic & Mixed Media Collage with Found Objects on Canvas Board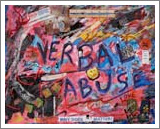 Why Does It Matter?
16 x 20 in.
Acrylic & Mixed Media Collage with Found Objects on Canvas Board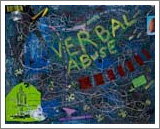 Holding On By A Thread
16 x 20 in.
Acrylic, Thread & Mixed Media Collage on Canvas Board
A User's Manual
16 x 20 in.
Acrylic, Textile & Mixed Media Collage with Found Objects on Canvas Board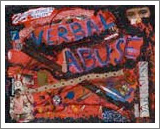 Darkness
16 x 20 in.
Acrylic & Mixed Media Collage with Found Objects on Canvas Board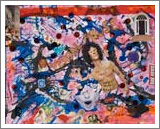 Black Blue & Red, The Enemy Within
16 x 20 in.
Acrylic & Mixed Media Collage with Found Objects on Canvas Board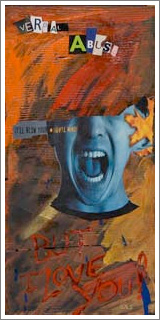 But I Love You
16 1/2 x 8 in.
Acrylic & Collage on Board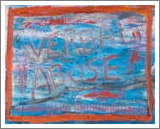 Small Faces
16 x 20 in.
Acrylic & Ink on Canvas